DM Sea Logistics has been honoured with the International Safety@Sea Award 2020 by the Maritime and Port Authority of Singapore (MPA) for its 'Outstanding Corporate Contribution to Safety at Sea'. Being the only winner in this category, this award recognises DM Sea Logistics' outstanding commitment to safety at work, which promotes the awareness of safe practices and inculcates a safety-first culture at sea.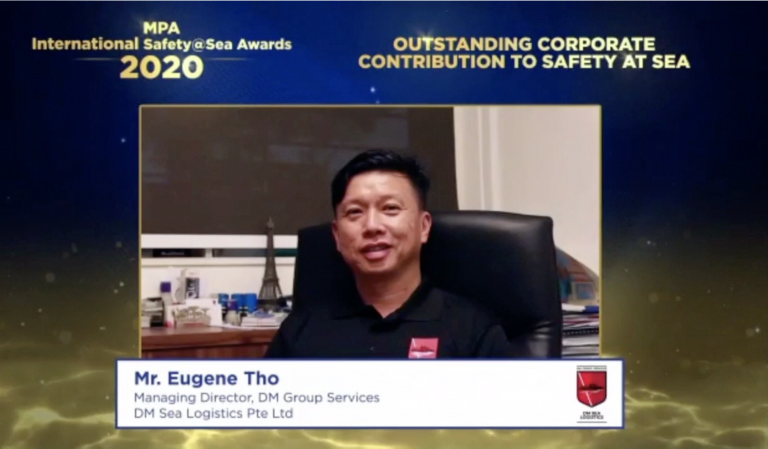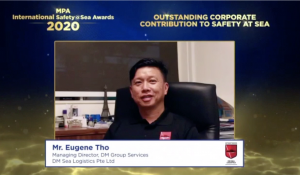 Eugene Tho, Managing Director of DM Group Services, has made a pre-recorded acceptance speech for the award ceremony, "This is our honor to receive the award and being the only winner in the 'Outstanding Corporate Contribution to Safety at Sea' category. We appreciate the efforts made by MPA in promoting a strong safety culture at the workplace. I'd like to express my sincerest gratitude to our team that has been working over and beyond at DM Sea Logistics despite such unprecedented time of the pandemic. DM Sea Logistics remains fully committed to maritime safety."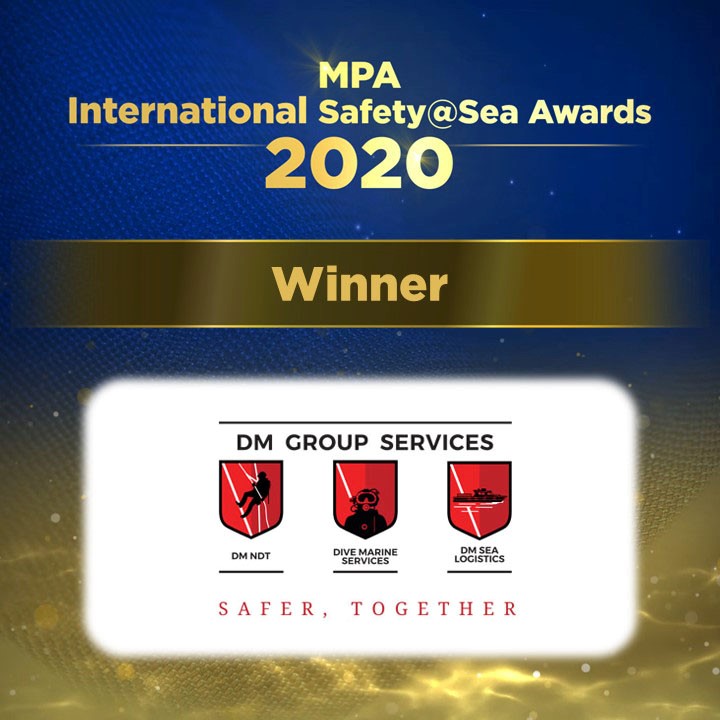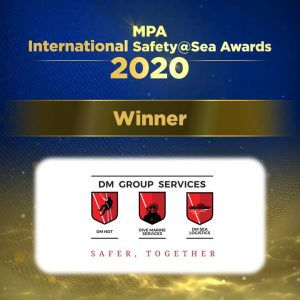 Our employees and contractors are trained to use the company's risk matrices which assess the level of severity and prescribe a hierarchy of controls and procedures to ensure safety. In 2019, and in partnership with GAC Singapore, DM Sea Logistics trialled a fatigue monitoring programme in which crew members were issued smart wearables for a trial period of nine (9) weeks. The data collected during this period improved the understanding of fatigue risks and precautionary measures could be taken. DM Sea Logistics is also a member of the MPA-Harbour Craft Safety Working Group.
Watch here for the full video of International Safety@Sea Awards 2020
About the International Safety@Sea Webinar Series
This is an annual platform for MPA (Maritime and Port Authority of Singapore) to engage members of the international maritime community and top practitioners to raise awareness and exchange views on maritime safety.
The forum started on the topic "Maritime Safety: New Normal, New Paradigms" this year. Following by three plenaries, covering the topics of "Mental Health & Wellness: Helping Seafarers Cope Better During a Pandemic", "Ship Safety: Reflecting on Incidents, Causality and the Way Forward", and "Ship Management: Lessons Learnt for Safety and Standards in the New Normal", were held from 30 November to 1 December. Each opened with a keynote presentation and was followed by a panel discussion.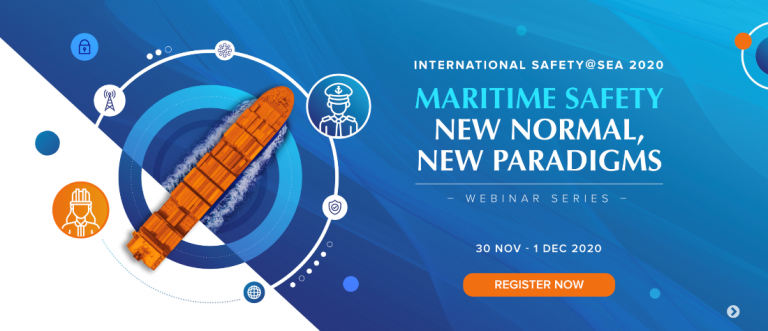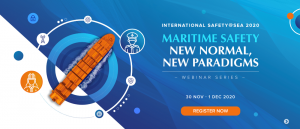 The MPA Safety@Sea Award, presented during the International Safety@Sea Conference, comprised of four different categories to recognise organisations which had contributed to safety at sea efforts, reviewed by the National Maritime Safety at Sea Council (NMSSC), including Search and Rescue, consistent records of low incident rates or high safety scores, or international/local accreditation for innovative and technological solutions in maritime safety.
To learn more about the International Safety@Sea, visit here.
About DM Sea Logistics
DM Sea Logistics, along with Dive Marine Services and DM NDT – is part of DM Group Services, established in 1974 and headquartered in Singapore. DM Sea Logistics scope of service includes in-port and out-port sea transportation solutions, ship cargo deliveries, ship cargo supply services, ship crew and passenger transportation.
Bernard Lee is the newest member of the team who assumed the role of Manager of DM Sea Logistics in August 2019.
Bernard is reputable and well-known amongst the Harbour Craft and Shipping Community. With years of experience in Ship and Fleet Management, Logistics and Operations Control, he has indoctrinated an excellent understanding of shipping business dynamics, domain knowledge and leadership qualities. He is a member of the MPA-Harbour Craft Community Safety Working Group and is heavily involved with Maritime Safety and Security agencies in Singapore.
Company
DM Sea Logistics
Tel: +65 6515 0090
Email: contact@dmgroupservices.com