O n our first day returning to work after the Chinese New Year holiday, the team here gathered to begin executing our business plan for the year ahead.  We were excited to have a focus on improving support for our international clients by expanding our operations internationally and increasing our commitment to technology for sustainable marine inspection, maintenance, and repair technologies.  Like ourselves, many other maritime services and larger shipping organisations around us were rolling up their sleeves to begin the task of aligning with IMO 2020. Lots of challenges for the industry but the mood was buoyant.
Suddenly, out of nowhere, we were blind-sided by the wrecking ball of COVID19 which took root in Singapore in late January, and with that, we had to begin accepting that perhaps we were no longer quite masters of our business destiny.  Little did we know that COVID19 was primed to change every aspect of our professional and personal lives – whether on sea, land, or air, there isn't a human being on the planet whose life hasn't been touched by the virus. Shipping and maritime services, in general, have been severely impacted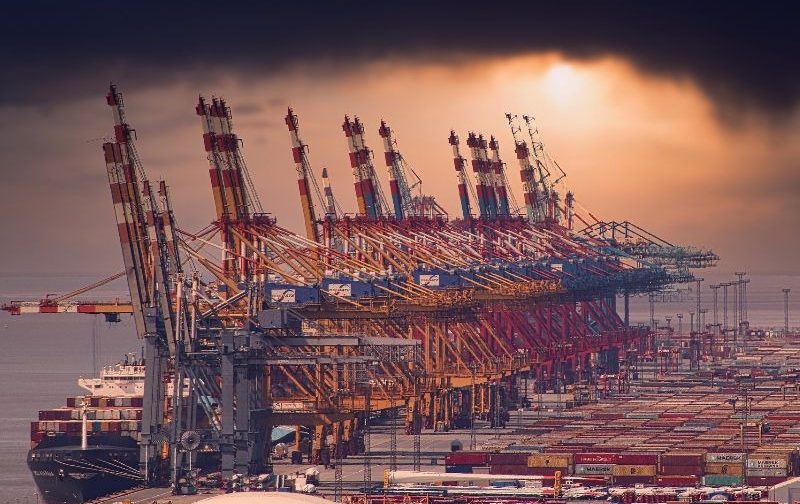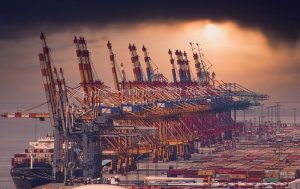 The Hit on Global Trade
Today across the world's economies, we all carry the heavy burden of keeping our organisations afloat at this most difficult time.  The growth that looked ambitious but achievable back in January is now intensely challenging.    The dark shadow of recession is looming, as global trade is set to fall 13%-32% this year alone, with double-digit declines in trade volumes.  It's difficult for any business, but particularly shipping which accounts for around 90% of the world's trade, to find the positives in this interconnected, virus-infused global economy in which we are all dependent on each other.  As the vital link in the global supply chain, the maritime industry sits at the epicentre, and is now beginning to cautiously move from crisis mode to a "new normal". It's a Herculean task, which does not have time on its side.
Much has already been written about the rather grim outlook for the global shipping sector, yet despite the gloom, many maritime organisations will come through this, and experts forecast that the most innovative and agile among us may well thrive.
So, what are we most likely to see in terms of the ups and downs on this long road ahead? As a maritime services company in South East Asia that's expanding to other regions, we'd like to share our thoughts on what we're observing from Singapore in a series of 3 short blogs that we'll post over the coming weeks.  We hope you'll enjoy our perspectives.
Digital Disruption & Innovation
There is never a "good time" for a global pandemic to sweep the world, but had it hit a decade or three before now, the situation would likely have been beyond our human and technological abilities to cope with.  The unprecedented strides made in connectivity and maritime technology since the start of the 21st century have made it possible for the shipping industry to function at maximum available capacity for months now; doing so without a major impact to safety is testament to the resilience and quality of our shipping, ports and logistics operations.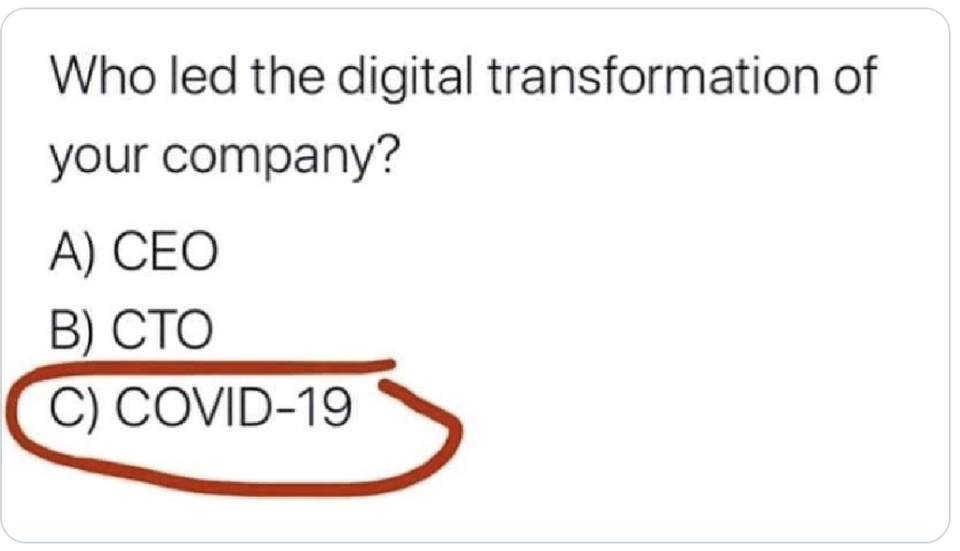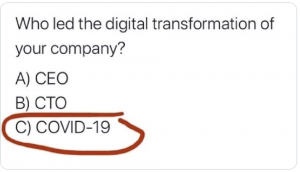 In the maritime sector, the IoT (Internet of Things) has digitised and automated countless systems and processes, including some ship inspection, repair and maintenance, and reduced our reliance on people alone.  Recently, this has helped to safeguard countless industry workers the world over with efficient tech stepping up as people have had to step down due to the constraints of lockdown, border closures, and self-isolation regulations. Remote, connected technologies have in many cases saved the day.  However, COVID19 has thrown every organisation, large or small, into a completely new tailwind that will force a radical overhaul of even the most digitized of businesses.  Our sector is moving fast too, but with countless stakeholders whose individual and unique needs inevitably trump the collective approach, it will be hugely challenging to circle everyone around a handful of goals.  One such example is the timely step taken last month by the International Maritime Organisation (IMO), the World Customs Organization (WCO), the United Nations Economic Commission for Europe (UNECE) and the International Organization for Standards (ISO) in signing a new agreement which lays out a vision for a harmonised digitisation of the maritime sector.  Such moves demonstrate that perhaps the single piece of good fortune the world has recently enjoyed is the fact that this terrible pandemic unfolded in the internet economy.
In terms of our own remote technologies, we've also had several operational opportunities since January to put digitised robotics technology to work using our Remotely Operated Vehicles (ROVs). As a marine services company, this capability has proven vital to us and our clients at a time when contact-less, remote inspection, repair, and maintenance have not just been possible but mandated by health and safety regulations.  On receipt of approval from Singapore's Port Services Authority (PSA), we conducted our first, class-approved ROV in-water survey (IWS) at the height of the crisis. Our client, the international maritime organisation, Bernhard Schulte Shipmanagement (BSM), had requested us to survey the vessel, Gottfried Schulte' (a 3,534 TEU container ship) while cargo operations were underway.  Our ROV inspection drone, the industry-leading VideoRay Pro 4,  was deployed by the team within the terminal to carry out a Lloyd's Register-approved underwater hull inspection under the meticulous direction of our in-house ROV pilots.  The operation took over 3 hours to complete in the middle of the night.   You can read more about the assignment here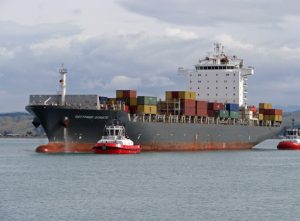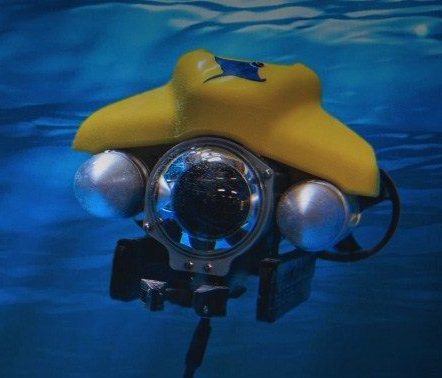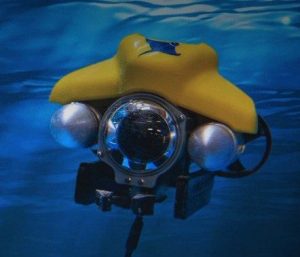 Gottfried Schulte, 3,534 TEU container ship and the VideoRay Pro 4
Dive Marine Group Services is putting huge effort into improving the way we invest in and work with ROVs and remote technologies, particularly in the area of eco-friendly underwater hull cleaning.  With our recent investment in TechHullClean's fully-fledged hull cleaning system, we are spearheading the movement towards zero water pollution at berth and at anchorage.  We achieve this by maximising the marine debris collected from the hull and its onboard filtration before releasing the fully filtered and clean water back to the sea. The system also boasts the highest waste reclaim rates in the industry and ensures that Alien Invasive Species (AIS) and other marine debris are fully captured during operations.
We have an opportunity, with the winds of COVID19 at our backs, to leverage and stretch the disruptive powers of technology; the operational aspects of our complex industry in safeguarding our global supply chains must be digitised to protect people, places and the trade we support.  More investment in disruptive technologies is vital; transparently tracking business operations, real-time tracing of assets and people, process automation, the use of maintenance drones above and below the waterline, and smart port innovation are more critical than at any other time in our history. It's a long wish list, but many platforms and initiatives already exist;  joining them up, making them faster, more efficient, and shareable is a great market opportunity that can underpin the safety and security of our globalised world.  It will take increased investment and innovation programmes if we are to be better prepared for any future crises.  Last week in Singapore, MPA and SSA jointly issued a fresh call for collaboration which will, "…encourage our technology community, maritime stakeholders and adjacent sectors to forge innovative partnerships to address the challenges & opportunities as a result of COVID-19…".   As one of the longest established marine services companies in SE Asia, the team here at Dive Marine Group Services looks forward to contributing to this process.
Please look out for the second part "COVID19 Trade-Off Paradigm – The Environment and Piracy Go Head-to-Head with Industry" in this short series next week or contact us for any underwater I.R.M. related inquiries here.